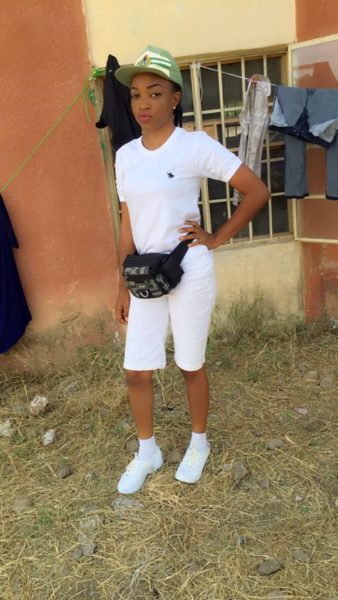 THE National Youth Service Corp (NYSC) has, on Friday dissociated itself from the the controversial death of a First Class graduate of Transport Management, Ifedolapo Oladepo from Ladoke Akintola University of Technology, Osogbo at its orientation camp in Kano State.
In an exclusive chat with Vanguard , the KANO Coordinator of NYSC, Abdullahi Baba said that the late Coper died in a Government hospital.
"We have nothing to do with her death, the records and the file are there, the Doctors that treated her at the camp are there likewise those that treated her in her at the Government hospital.

Anything outside this account is falsehood and people are free to hold opinion whether positive or negative but the beautiful things are that the records there for anyone to access.

Her case was handled by professional and I believe they know better,"he said.
He also said that the late Corps Member died in a Government hospital.
"The truth of the matter was that the Coper did not die at the camp, she died in the hospital. She was sick, treated at the camp clinic, and when she was not responding, she was taken to second facility hospital at Gwarzo General hospital.

I have reported the matter to my Head office, she was handled by our doctors in the camp before she was transferred to Government hospital," he said.
This report came after Ifedoalapo's death was blamed on negligence by the NYSC officals.
Her friend,  who was speaking to her throughout her ordeal has recounted what happened on the sad day. She wrote on Facebook:
You called me five hours to ur death and told me to start coming as the NYSC doctors are not doing anything for you. They thought you were pretending u did not want to go for parade so they did not attend to you. When you started calling people from home they eventually gave you an injection immediately after the injection you called mama again that you notice a lot of rashes on your body that I should speak with the doctor who refuse to talk to me. You called five minutes later and told me your tongue is twisting they sent all your friends out after seeing all the reaction on ur body after giving you the unknown injection. You said we should ask for flight and I called immediately they told me Abuja flight is Mondays, Wednesdays & Fridays. I told you to tell anybody in the clinic dat I'm a nurse they should allow me to speak to them a male nurse took phone from you and told me you are having anaphylactic reaction and they will watch you for just one hour and transfer you to Aminu Kano Teaching Hospital but alas they did not transfer you until 5hours later when they notice u are restless and calling people at home, boarded a bus going to kano with ur sister oladepo Kemisola Oladepo to come pick you from there. I begged them to take you to a teaching hospital around but they took you to General hospital Gwazo where they have little or no care to render. They took your phone from you claiming you are not resting. From that 5pm I could not talk to you, I took a 16-hour journey to make sure I get to you, but I was called around 3am that you gave up, without any doctor in the hospital to assist you the only nurse on duty told me she tried her best, her best of staying beside you when death was taking you away cos there was nothing to use, from that 3am till I got to kano I was hoping it will only be a mix up somewhere it can't be you, got to kano and met you at Aminu Kano Mortuary, alas it was you being put in dat cold place. Amokkkkkeeeeeeeeee Mi you couldn't withstand the agony, NYSC successfully cut your destiny due to negligence. REST ON OUR QUEEN, if you are opportuned to come back to the world pls come as my daughter.ADIEU Oladepo Ifedolapo AMOKE MI
NYSC Dissociates Itself from The Death of Youth Corper, Ifedolapo Oladepo.